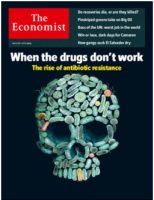 The spectre of super-bacteria resistant to antibiotic therapy is once again in the news. Media coverage, (notably in The Economist, a widely read newsweekly) has highlighted that bacteria are increasingly gaining the capacity to be resistant to commonly used antibiotics, and that this will have a serious impact upon human health.
What impact does this have on sinusitis sufferers? Possibly quite a bit.
Acute bacterial sinusitis is frequently caused by the bacteria Streptococcus pneumonia. This used to be easily treated with . However, in 1988 Don Low, a Canadian infectious disease specialist working at the University of Toronto reported the emergence of a penicillin-resistant Streptococcus pneumonia in samples form respiratory tract infections. National monitoring strategies were put in place over the following decade and showed an increase not only in penicillin resistance, but also showed the emergence of resistance to the macrolide class (claritrhromycin (Biaxin™) and azithromycin (Zithromax™)). Further work from Dr. Low and others demonstrated how inappropriate use of antibiotics to treat respiratory infections was responsible for the development of bacterial resistance in Streptococci. As sinusitis is responsible for 25% of all oral antibiotic use in humans, this led to the development of guidelines, both in Canada and internationally, for appropriate antibiotic use in order to minimize risk of development of resistance.
While these had been reasonably effective in Canada, in many other countries, antibiotic resistance to these two agents has reached epidemic levels . Thus, in many places, effective treatment of acute bacterial sinusitis now requires either newer, stronger medications or drug combinations.
Patients with chronic rhinosinusitis (CRS) also have cause for concern. Staphylococcus aureus is frequently implicated in CRS, and antibiotic resistance in S Aureus has been increasing rapidly. While resistance to penicillin by S Aureus was noted only 3 years after the introduction of penicillin, methicllin resistant staphylococcus Aureus (MRSA) are now seen in patients with CRS, particularly those with long standing disease and multiple sinus surgeries. In an additional novel twist, Gram-negative agents such as Acinetobacter and Klebsiella are increasingly resistant to ampicillin, a synthetic penicillin recommended as first line therapy by many guidelines. Thus, clinicians are increasingly required to perform a culture of sinus secretions in order to precisely identify bacterial resistance in patients not responding to initial therapy.
What does the future hold? It's not hopeless but will certainly require new strategies as new antibiotics may not be an option. While drug companies were previously able to invent new molecules to treat these antibiotic resistant bacteria, this strategy appears to be growing thin and we may be running out of the effective medication to treat these bugs which are easily capable of modifying their genetic makeup to develop resistance strategies.
Novel strategies may instead involve use of bacteriophages, small viruses which attack and destroy bacteria. Or they may instead opt to introduce 'healthy' bacteria into the sinuses, in order to drive out replace 'bad' bacteria or prevent them from taking hold. In all instances, continued efforts to educate patients and physicians on the responsible use of antibiotics will vital in preventing the further development of resistance.
This column is dedicated to the memory of Don Low, who passed away in 2013 at the age of 68. We miss you Don but your wisdom carries on.
(3221)