Cough, your Baby and You—What's a Parent to Do?
Gustavo Ferrer, MD.


About the author: Dr. Ferrer is one of the top pulmonologists in the country, an expert who is often able to cure coughs in patients who have seen a dozen other pulmonologists. He is the founder of Cleveland Clinic's Cough Clinic in Florida and the author of the Amazon bestseller Cough Cures: The Complete Guide to the Best Natural Remedies and Over-the-Counter Drugs for Acute and Chronic Coughs.
The FDA requires cough medications to be labeled "not for children two and under" because of the potential of overdosing and side effects. In fact – as I explain in my book Cough Cures – most cough medications are ineffective at best and unsafe at worst, even for adults.
In doing the research for my book, I found that people tend to assume that medications in a drugstore have been thoroughly checked by the FDA and that their effectiveness have been documented by research studies. Nothing could be further from the truth. The FDA cannot possibly check the tens of thousands of over-the-counter medications. What's worse, companies can make all kinds of advertising claims on the front part of the label without having to submit a single research study. Some of the most common cough medicines like guaifenesin have no research supporting their use.
You must be especially wary of combination medications, ones that combine several different ingredients for different purposes. Perhaps one is meant to suppress the cough, another to thin the mucus, and a third to help you sleep. Many combination medicines contain acetaminophen (Tylenol), and it's very easy to unintentionally take too much in 24-hour period. You have to read the back part of the label and add up how much Tylenol you're getting in all your different medications combined. The FDA considers 3000 mg a day as a safe level, but I recommend only 1500 mg, because too much Tylenol can cause liver failure and its attributed to hundreds of deaths per year. I still see many patients at the Intensive Care Unit where I work with liver failure from Tylenol, even after the FDA lowered the safe dosage to 3000 mg a day.
Robitussin and other cough syrups contain codeine. It's a small amount and not enough to cause dependency for short term use. It could be a problem with long-term use however, and the real problem is that teenagers can easily buy enough of it over the counter to get a dependency-forming amount of codeine. If you have teenagers in your house, please go to www.StopMedicineAbuse.org for a long list of all the cough syrups that can be abused by teens.
What about prescription medications? As you probably know by now, the antibiotics prescribed by doctors for coughs, colds and flu are ineffective because these are viral illnesses, and antibiotics only work against bacteria. It's a common myth that the antibiotics will protect against a secondary bacterial infection. But there is no research evidence that they do, and in fact the World Health Organization has said that antibiotics should not be used to prevent a cough from turning into bronchitis or pneumonia.
So what can we do instead? For adults, who prefer drugstore medicines, the only type I recommend is antihistamines, because they dry up the post nasal drip that causes many coughs. Even then, I teach readers to distinguish between the "first generation" or older antihistamines like Benadryl, which have stronger side effects, and the "second generation" or newer ones like Claritin, Zyrtec and Allegra. If you research the side effects online they are about the same for both types of antihistamines, but they occur less often and are milder with the second generation. The trade-off is that the second generation antihistamines are not as effective, but I recommend starting with them. Only go to a stronger one like Benadryl if the newer ones fails to help. Be wary of "PM" cough medications in which include Benadryl to make you drowsy: sleep doctors advise NOT to use Benadryl as a sleeping aid, because it can increase sleep apnea.
The reason antihistamines work for coughs is their ability to dry up postnasal drip, but there is a better and safer way for everyone in the family. Before you turn to a drugstore medication or natural remedy, the safest way to stop coughs caused by postnasal drip is to use a saline rinse, specifically one administered with a prefilled NeilMed plastic squeeze bottle. As I explain in Cough Cures, the NeilMed system solves two common problems with saline rinses: it has a bulb tip that regulates the flow, preventing the water from coming into the nose under too much pressure; and it slightly alkalinizes the saline solution, so that it does not irritate the sensitive nasal tissues. Fortunately for the harried parent of a coughing infant, NeilMed provides Nasabulb, a special version just for babies.
For more information, visit:
www.GustavoFerrerMD.com
www.CoughCuresBook.com
Amazon: Cough Cures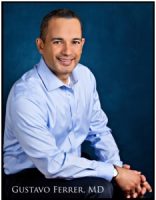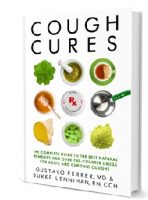 (463)