Rhinotopic Therapy for Refractory Chronic Rhinosinusitis
Alan H. Shikani, M.D. F.A.C.S.


Director, Maryland Nose &Sinus Center Rhinology Fellowship Program,
Chief, Otolaryngology-Head and Neck Surgery, the Union Memorial Hospital,
Chief, Otolaryngology-Head and Neck Surgery, the Good Samaritan Hospital,
Chief, Otolaryngology-Head and Neck Surgery, Sinai Hospital
Chronic rhinosinusitis (CRS) is persistent and symptomatic even after optimal medical or surgical management, in 5-25% of cases. In spite of widely open sinus cavities that are ventilated and drain readily to the nasal cavity, the mucosa is still inflamed, infected, and/or edematous, often with gross polyposis.
Figure 1a and 1b. Persistent sinusitis despite widely open sinus cavities
These "Refractory CRS" patients' often (although not always) demonstrate inflammatory or idiosyncratic features, such as eosinophilia, history of asthma, allergic fungal sinusitis, nasal polyps, and aspirin sensitivity. The disease is most likely multifactorial, which chronicity relies on constant debris accumulation, unremitting inflammation, and insidious infection. The optimal management needs to be multifactorial as well, and address all three components concurrently.
The rhinotopic protocol is a comprehensive form of topical therapy for this difficult-to-treat entity that is unresponsive to standard regimens. The principle of the local therapy is prolonged delivery of a highly concentrated drastic substance, whether pharmacological or not, to the sinus cavities, so as to exert its maximal effect on the desired anatomical site, without significant systemic toxicity.
Prior to the local application of therapeutic antimicrobial or anti-inflammatory agents, mechanical cleansing of the sinuses is done with daily nasal saline irrigations and weekly office debridements. Crusts, mucopurulent secretions, and exudates, are toxic to the underlying epithelium, and perpetuate the inflammation. Meticulous removal of debris is the sine qua non of every topical therapy, in the same way it is essential for the normal healing process post-sinus surgery. Anti-microbial and anti-inflammatory topical therapy is administered simultaneously to the sinus mucosa using corticosteroids and culture-directed antibiotics; these are applied locally via a combination of two advanced delivery techniques, i.e., dally nebulization of small aerosolized particles, and weekly endoscopically-guided instillation of a gel that releases corticosteroids and culture-directed antibiotics.
| | | | | |
| --- | --- | --- | --- | --- |
| Fig. 1. Drug aerosolization via a nebulizer. curved suction tip | | Figure 2: Drug topical application via a gel | | Figure 3. The steroid & antibiotic releasing gel is introduced into the left maxillary and ethmoid cavities with a curved suction. |
The sustained, highly concentrated application of corticosteroids directly onto the diseased membrane treats the inflammation-related mucosal changes. The sustained, application of antimicrobial agents aims to eradicate the etiologic microorganism from the sinus mucosa. It is suggested that a key factor for the successful elimination of infection is overcoming the resistance of bacteria within the biofilm shelter. The antibiotic-releasing mucoadherent gel is specifically attached to this surface-organized community, and places a dense concentration of bactericidal agents at the infection site.
In our experience, the impact of rhinotopic therapy was favorable and sustained in refractory CRS patents in general, but most especially those with nasal polyps. While rhinotopic therapy does not offer a permanent cure, it can, because of its safety profile, be repeated and/or sustained over extended periods, hence avoiding the risk of prolonged oral corticosteroids and/or intravenous antibiotics for the difficult- to- treat refractory CRS patient.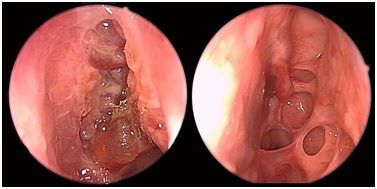 Figures 4a and 4b Pre- and Post-Rhinotopic Therapy: Chronic hyperplastic sinusitis in a patient prior to the topical treatment (left). The ethmoid and frontal mucosa is polypoid; the maxillary antrostomy is patent. Same patient after completion of the rhinotopic protocol (right). The sinus mucosa health has been restored.
(4486)