Chronic Rhinosinusitis (CRS)
Austin S. Rose, MD




Board certified, Otolaryngology – Head & Neck Surgery




Associate Professor




University of North Carolina

About the author: Dr. Austin Rose has been working in Pediatric ENT for about 10 years since his fellowship at Johns Hopkins Hospital in 2003. He has a special interest in seeing and treating children with sinus related disease, and has given presentations throughout the country and around the world on treatment of children with chronic rhinosinusitis (CRS).
Chronic Rhinosinusitis (CRS) is often defined as symptoms (such as nasal congestion, drainage and cough) that persist longer than 12 weeks. In general, sinusitis arises from the obstruction of normal sinus openings known as ostia due to upper respiratory infections, allergies, exposure to irritants or an underlying disease such as cystic fibrosis. This leads to a backing-up of normal mucous secretions, dysfunction of the sinus mucosa and secondary bacterial infections.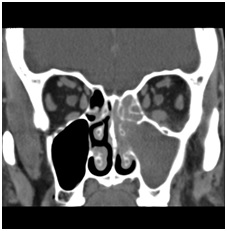 ASR Figure 1. Example of a CT Scan Demonstrating sinusitis with "backed up" left maxillary and ethmoid sinuses.
In most cases, pediatric sinusitis can be managed medically with a regimen that includes topical nasal steroid sprays, oral antihistamines as needed and nasal saline. The use of routine nasal saline spray or irrigation, such as the NeilMed Sinus Rinse, can be invaluable – helping to maintain normal sinus function and clearing the sinuses and nasal passages of secretions, allergens, irritants and infection.
In a few cases, children with CRS may require surgery such as adenoidectomy or, in more persistent cases, treatment with limited endoscopic sinus surgery. When necessary, this can prove helpful to further open blocked sinuses which can allow better sinus function and more effective administration of topical nasal medications – including nasal saline spray and / or irrigation.
(3646)