The Ear: An Allergist's Perspective
John E. Rooney, M.D., Ph.D., F.A.C.P., F.A.A.A.A.I




Board Certified in Allergy, Asthma and Immunology




Clinical Assistant Professor of Medicine – Hofstra North Shore LIJ School of Medicine




Associate Physician – ENT Associates of New York (www.nyents.com)


About the author: Medical Degree at Jefferson Medical College, Philadelphia, PA; Residency at Barnes Hospital Washington University, St. Louis, MO; Fellowship in Allergy & Immunology at the Long Island Jewish Medical Center (LIJ), New Hyde Park, NY. Board Certified. Affiliated with: North Shore LIJ; North Shore University Hospital

So what will an allergist do when referred one of these patients? Well, first I'll ask a few specific questions to pin down likely causes of their symptoms. When do their symptoms bother them most? In the Northeast, for example, tree season occurs in the spring, grass season in the summer and weed season in the fall. Are their symptoms worse in the early morning when pollen counts are highest or indoors where dust mites and pet dander predominate? Many allergic patients are also hypersensitive to environmental irritants like smoke, cold air or perfume.
Major clinical labs offer a variety of allergy panels specific for pollens found in different parts of the country. IgE Cap-RAST is the method of choice, and Turbo-IgE-Cap-RAST is truly state of the art. In addition to the locally predominant pollens, most panels will also include common perennial allergens such as dust mites, cockroach, dog, cat and molds. Antibody titers are clinically significant if they are Class II or higher. Screening for food allergies is not indicated.
An allergist, of course, will determine allergic sensitivity by skin testing in the office. This produces results within minutes, is less expensive and does not require blood to be drawn. Epicutaneous or "prick" testing is accomplished using prickly devices which gently disturb the epidermis and deposit a purified drop of allergen extract on top. The size of the wheal and flare reaction produced compared to controls identifies allergens to which the patient is sensitive.
Knowing a patient's exact allergies helps define therapy. Avoidance of allergens, for example, is an inexpensive non-medicinal way to lessen symptoms. Exposure to dust mites, the microscopic creatures that clean up our dead skin cells, can be minimized by washing bed sheets regularly in water heated to at least 130o F. HEPA filter air purifiers decrease airborne pet dander and work best when used in the bedroom. Patients who are pollen allergic should close their bedroom window at night and plan outdoor activities later in the day to avoid times of peak pollen levels.
Immunotherapy or "allergy shots" can also control the symptoms of rhinitis and eustachian tube dysfunction. With traditional subcutaneous immunotherapy (SCIT), progressively larger doses of multiple allergens are injected, usually on a weekly basis, until a therapeutic "maintenance dose" is achieved. Injections then proceed monthly until immunity becomes permanent in about three to five years. Sublingual immunotherapy (SLIT), approved in the United States for grass and ragweed pollens, is administered orally by the patient at home but is limited by the smaller number of allergens available.
Some unfortunate patients with recurrent OME will harbor an immune deficiency. These patients, who will frequently have other sites of infection as well, are best identified through directed questioning and testing by an allergy-immunology specialist.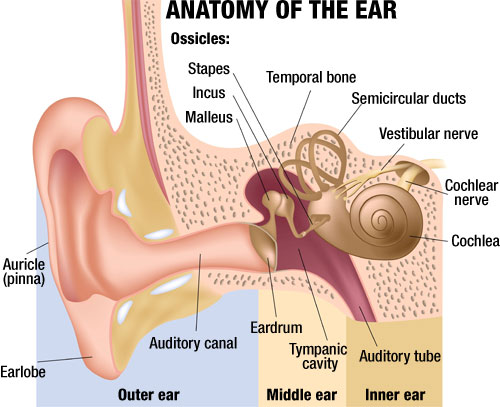 (676)