The basics of ear infection for parents
Wei Li, MD (Pediatric allergist)




Board-certified in adult/pediatric allergy and immunology and internal medicine


About the author: Dr. Li is double board-certified in adult/pediatric allergy and immunology and internal medicine. She received her undergraduate degree from the prestigious Sophie Davis School of Biomedical Education. Dr. Li served as a primary care physician in the immigrant community of lower Manhattan. At the same time, Dr. Li also worked as an associate professor in adult allergy at the Lincoln Medical and Mental Health Center in Bronx, NY., where she taught residents in the area of allergy.

Parents of young children often face the challenge of managing an acute or chronic ear infection. It is estimated that 50% infants will have an episode of ear infection by one year of age. It is the most common condition for which antibiotics are prescribed. Worst of all, pain or sometimes severe pain is common. The typical approach recommended to parents is to start with non-steroidal-inflammatory drugs, such as ibuprofen, or acetaminophen, or topical benzocaine or lidocaine (avoided in cases with membrane perforation or children under 2 years of age) to control pain. Avoid cold medicine, antihistamine and decongestants which can have dangerous side effects in young children. The second question is when to start antibiotics. The age factor and severity of the symptoms dictate the timing of the approach. For children under 6 month of age, it is recommended to treat immediately with appropriate antibiotics for acute otitis media. For children and with severe symptoms, such as high temperature (>102.2 F), persistent pain for more than 48 hours, with children under 24 month with bilateral ear infection, appropriate antibiotics are recommended immediately. Otherwise, observation may be appropriate for 24-48 hours with close follow up as symptoms can evolve rapidly. The typical course of antibiotics treatment is 5-10 days, and the initial drug of choice is Amoxicillin. Another important point for parents to remember is that even after symptoms have resolved, it is important to follow up. This is to monitor middle ear effusion which has been associated with conductive hearing loss. Referral to an otolaryngologist specialist is warranted if the child has persistent tympanic membrane perforation for 3 month or longer or persistent treatment failure. For children with frequent recurrent ear infection, preventive antibiotics or tympanostomy tubes may be considered.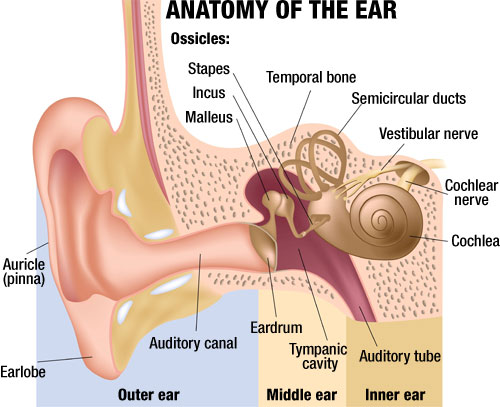 (1818)