Buffered saline solution irrigations help manage symptomatic septal perforations
Paul Schalch, MD.




Board certified Otolaryngologist – Head and Neck Surgeon.




Clinical assistant professor at Southern Illinois University School of Medicine.


About the author: Dr Schalch works at Southern Illinois Healthcare, in Carbondale, Illinois, and has a special interest in rhinology and sleep apnea surgery.
Patients that seek help with septal perforations typically present with symptoms such as nasal obstruction, crusting, foul-smelling discharge, intermittent nasal bleeding and occasionally, a whistling sound when breathing through the nose. Patients occasionally have a subjective feeling of nasal obstruction, even if their exam reveals wide-open passages (perhaps due to the loss of sensate mucosa along the septum).
While some autoimmune and chronic inflammatory diseases are possible causes for septal perforations (Wegener's granulomatosis, sarcoidosis), most often the cause is a history of nasal surgery or procedures (septo- and/or rhinoplasty, or procedures to control nasal bleeding, like cauterizations or nasal packing), nasal fractures or trauma (particularly in the setting of undiagnosed hematoma in the septum, or placement of nasogastric tubes), chronic use of oxygen via nasal cannula, or recreational drug use (typically intranasal cocaine). Rarer causes include infections (fungal, tuberculosis) or exposure to industrial fumes and gases, that may lead to the development of malignancy.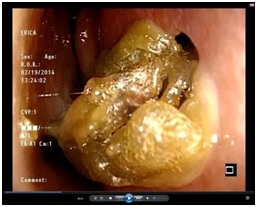 The diagnosis of septal perforations is typically made during the nasal portion of the physical exam. Anterior rhinoscopy (done with a headlight and nasal speculum) or nasal endoscopy usually reveal an area of crusting or bleeding that is adjacent to the edge of a perforated area in the septum. Anterior perforations (closer to the vestibule of the nose) tend to be more symptomatic than posterior perforations. The size of the perforation can be variable, and it may involve cartilage or bone or both.
Regardless of the cause, strategies should focus on managing the excessive crusting and occasional bleeding that tends to occur with these perforations. Maintaining the nasal mucosa well moisturized with saline gel and other nasal emollients is a useful strategy, along with buffered saline sprays or irrigation, which prevent the formation of large crusts that cause nasal obstruction and bleeding. It is important to instruct patients to avoid chronic use of topical decongestants (such as oxymethazoline), because of concerns of rebound congestion and dependence (rhinitis medicamentosa). It is also useful to add the use of a humidifier in the bedroom at bedtime. Patients on oxygen via nasal cannula should be switched to humidified face mask.
Surgical strategies are available to address perforations with variable rates of success. These may range from septal buttons (small silicone implants that are placed to cover perforations) to more extensive open rhinoplasty approaches with tissue flaps/rearrangement. Recently, some biomaterials have been introduced as possible adjuncts to surgical repair.
(14255)