The Effect of Pool Swimming on Sinus Symptoms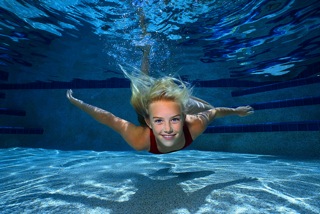 It's the middle of summer, the kids are home from school and perhaps you'd like to soak in some vitamin D. Why not spend the day at the pool? Swimming is a great way to stay active and enjoy the sunshine while spending time with friends and family. Lap swimming is also an excellent form of aerobic fitness. Whether you're having fun in the sun or getting your cardio workout in, pool swimming can cause congestion, sinus pain, and sinus headaches. There are two main culprits for these issues: chlorine and pressure changes from underwater swimming.
Bacteria, viruses, or fungi in pool water can enter the nasal passages, which can lead to inflammation and even cause infections. Chlorine, however, is an even more common cause for post-swim sinus problems. The chlorine in pools can cause inflammation in the lining of the sinuses—sinusitis—as well as inflammation in the lining of the nasal passages—rhinitis. This can last as long as one to two weeks, which is definitely not something you want to have to deal with.
Pressure changes in the sinus cavities can block the nasal passages and cause discomfort.  When diving and swimming beneath the water, the pressure in your sinuses has to equilibrate with the pressure under the water. When chlorine and chemicals in the pool irritate the nose, mucus becomes thick and the sinuses become plugged. This prevents your sinuses from adjusting to pressure changes and the build up of pressure can cause sinus headaches. Plugged sinus cavities also cause sinus infections because the blockage prevents the clearance of viruses and bacteria that have entered the nasal cavities. In addition, trapped liquid can develop into an infection. This blockage is why swimming often worsens the symptoms of a cold or sinus infection.
So how can you enjoy the benefits of pool swimming and avoid any sinus symptoms? The two best prevention methods are to use nose clips and to use a saline spray or saline nasal irrigation system after your swim session. Nose clips prevent the chlorine in the pool water from entering your nose. If you are seriously afflicted, you may need to find a pool that does not use chlorine as a disinfectant. Saline irrigation will clear your nose and sinuses of pool chemicals and irritants, as well as mucus that may have built up during your swim.
If you experience congestion, sinus pain, or headaches often after swimming, you may want to decrease the frequency and duration of your swims. You may also want to avoid diving and swimming deep under the water. When lap swimming, faster turns can help keep water from entering the sinus cavities. There is a bigger pressure difference between your sinuses and the water pressure during slow turns, which allows water to enter.
Try swimming in the ocean if possible. This will actually have beneficial effects on your sinuses because the salt water acts as a natural saline irrigation. If you have developed a sinus headache after swimming, you may want to take an over-the-counter (OTC) pain reliever for your symptoms, as well as avoid swimming again until your headache has subsided. I hope I have not discouraged you from visiting the pool—as you can see, most cases can be easily prevented and treated.
Have you suffered from sinus problems after swimming? We would love to hear your experiences and how you have dealt with it. Have requests for future blog topics on allergies, sinuses, or natural health? Please leave your thoughts below!
Written by,
Alisha Mehta
(443922)