Saline nasal douches as a treatment for chronic rhinosinusitis
(Long term inflammation of the sinuses)
Peter John Wormald




MD, FRACS, FCS(SA), FRCS, MBChB




Professor and Chairman, Department of Otorhinolaryngology




University of Adelaide, Adelaide, Australia


About the author: Professor Peter-John Wormald, MD is one of the world's foremost sinus surgeons and a recognized world leader in sinus related technology. He has been Chair of the Otolaryngology head and Neck Surgery since 1998.
Chronic rhinosinusitis (CRS) is a disease characterized by inflammation of the lining of the sinuses with resultant sinus ostia obstruction.  This sinus ostial obstruction leads to retention of secretions within the sinuses with secondarily colonization by bacteria further adding to the inflammation.  Characteristically these patients present with greater than 3 month symptoms of nasal obstruction, rhinorrhea, post nasal drip, facial pain or pressure and loss of the sense of smell.  In the first instance treatment is medical with systemic and topical steroids given in an attempt to reduce the inflammation and consequent edema with opening of the natural sinus ostia.  Saline nasal washes are then given in an attempt to wash out the sinuses through these newly opened ostia.  For this treatment to be successful, the saline needs to penetrate the sinus ostia and get into the sinuses and wash out the retained secretions.  Nasal sprays and nebulizers do not produce enough volume or pressure to penetrate these small sinus ostia and therefore douching with a plastic squeeze bottle with a volume of 240mls of saline provides the most effective treatment.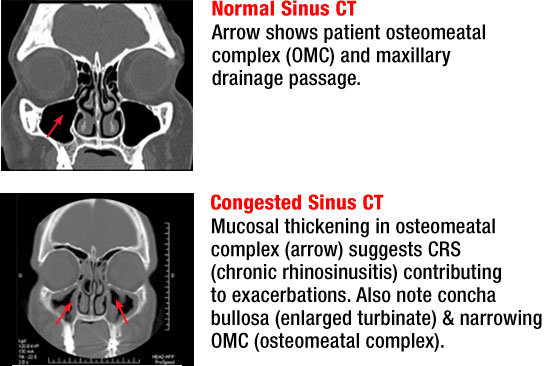 (16443)